The TARDIS returns to BBC One and iPlayer in the UK from Saturday 25 November with the first of three Doctor Who 60th Anniversary Specials, taking viewers on an otherworldly adventure in space and time each Saturday.
The Star Beast will air from 6.30pm on Saturday 25 November.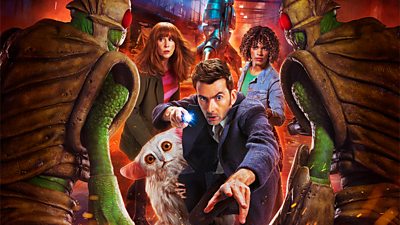 The Star Beast sees the Doctor and Donna come face to face after all these years, but just how, and why, is about to be revealed.
Wild Blue Yonder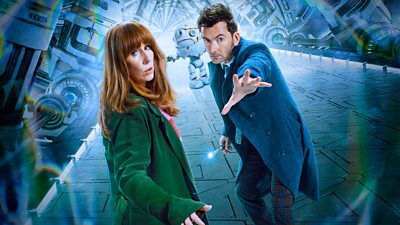 The second 60th anniversary special, Wild Blue Yonder, comes to BBC One and BBC iPlayer from Saturday 2 December.
The Giggle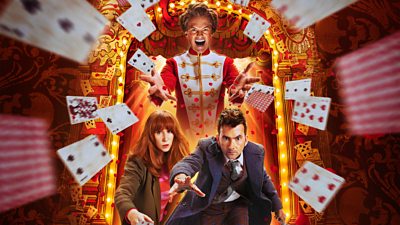 The Giggle completes the trio of anniversary specials and will air on BBC One and BBC iPlayer in the UK from Saturday 9 December.
Watch the trailer
Joining David Tennant and Catherine Tate is a stellar cast including, Yasmin Finney as Rose Noble, Miriam Margolyes as the voice of the Meep, Jacqueline King as Sylvia Noble, Karl Collins as Shaun Temple, Ruth Madeley as Shirley Anne-Bingham, Jemma Redgrave as Kate Lethbridge-Stewart and Neil Patrick Harris as the Toymaker, set to cause all kinds of mayhem.
It's going to be an unmissable cosmic adventure, all before Fifteenth Doctor Ncuti Gatwa gets the keys to the TARDIS over the festive season.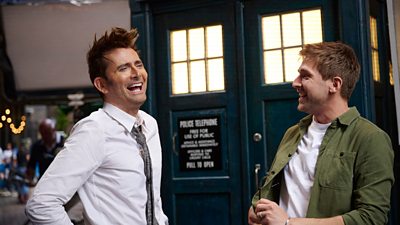 Just as you come out from behind the sofa, it's time to step behind the scenes as Doctor Who: Unleashed lands on BBC Three and iPlayer from November 2023. A brand new access all areas show, Doctor Who: Unleashed will give viewers an unmissable insight into the world of Doctor Who.
Host Steffan Powell (BBC Gaming Correspondent and former Radio 1 Newsbeat Presenter) has been given the keys to the TARDIS and, after every episode of Doctor Who, viewers can switch over to BBC Three or iPlayer as Steffan takes viewers on a journey showing them just how this out of this world drama is made. With exclusive interviews with the stars in front of the camera, as well as those behind it, Unleashed is the ultimate companion to Doctor Who.